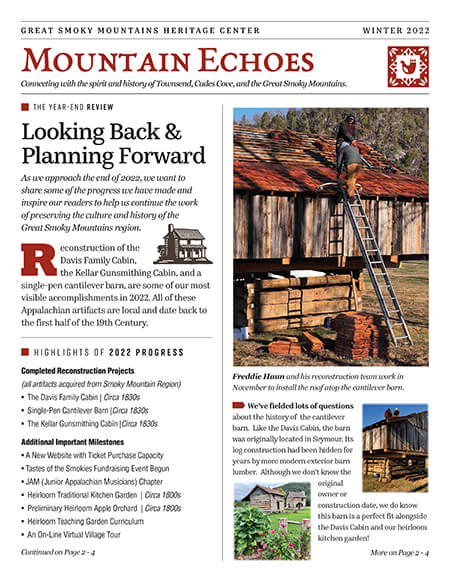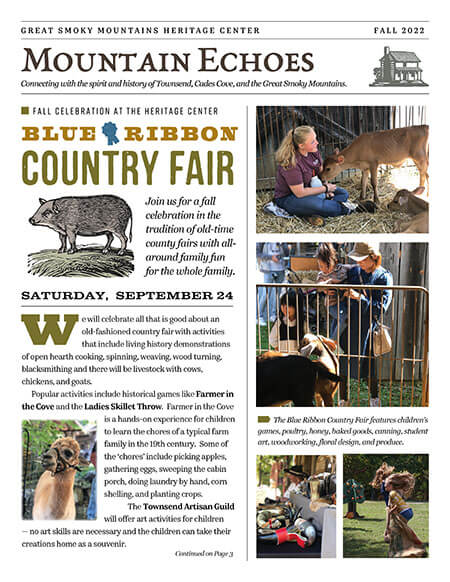 Useful Information
Download newsletters and other helpful information to stay informed about special events, new galleries, concerts and developing programming. Available here are facts about our guided tours, field trips and volunteer programs as well as site maps of the Heritage Center Campus and the Appalachian Village
Cades Cove Heritage Tours (May to October)
Our 14-passenger guided bus tours are available on most Tuesdays & Thursdays from May until October. A seasoned driver-guide will offer historical tidbits on the history of Cades Cove and the families that lived there. You may see bears, deer, and other wildlife on the tour. Tours begin at 9:00 am and return between 12:00 to 1:00 pm.
Private Bus Tours: are also available for just you and your family or group to visit Cades Cove. Your guide can customize your tour to fit your schedule and interests. Call for private tour pricing.
Park Ranger Tour: Perfect for the Cades Cove aficionado, participants will take a peek behind the scenes with a retired park ranger. You will visit places like Gregory's Cave, the CCC camp, the WWII Memorial Tree, and learn how the Park Service manages wildlife. This all-day tour is $90 per person, including a boxed lunch.